Join us for an amazing line-up of speakers at  San Francisco Interaction'19 // redux.
Bill Buxton will keynote for Interaction'19 - San Francisco! Considered one of the pioneers of Interaction Design, Bill Buxton is a Principal Researcher at Microsoft Research (MSR). He was among the first to research multi-touch interfaces, and his book "Sketching User Experiences" paved the way for Interaction Design in Tech. Not to be missed!
Come and join us for this San Francisco edition of the recent global IxDA Interaction'19 conference, which drew over 1500 attendees from all over the globe.
We'll have two main sessions with presentations on Designing for and with AI, and on Designing for Life, Death, and Eternity. See full program details below!
Interaction'19, described as "one of the most thought-provoking yet", attracts speakers of the highest caliber, considered the founders and today's cutting edge innovators in the Design profession.
Thank you to FitBit for sponsoring our Happy Hour for this event. Drinks & dinner appetizers will be served.
AGENDA
3:00 pm - Doors open // Socializing // Appetizers
4:00 pm - PART 1: Designing for and with AI - Presentations and Panel Discussion
                 With Kristian Simsarian (Collective Creativity, Founding Chair of the CCA IxD program), 
                 Hannah Maddy (Netflix), Ammon Haggerty (Formation.AI), and Elizabeth Churchill (Google)
5:00 pm - Socializing // Appetizers // Happy Hour
6:00 pm - KEYNOTE. Bill Buxton
6:30 pm - PART 2: Designing for Life, Death, and Eternity - Presentations and Panel Discussion
                 With Aubrey Bach (Facebook), Rebecca Blum (Lyft),
                 and Ian Pollock (Cal State U/EB)
8:00 pm - Socializing // Appetizers // Happy Hour
9:00 pm - Close
KEYNOTE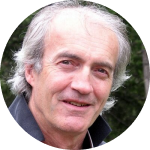 Bill Buxton
Bill is a principal researcher at Microsoft Research. He is known for being one of the pioneers in the human–computer interaction field. He has had a 40-year involvement in research, practice and commentary around design, innovation and human aspects of technology. Following a 20-year career as a professional musician, he morphed into a researcher and interaction designer, at the University of Toronto, Xerox PARC, Alias Research and SGI Inc.
He has been awarded four honourary doctorates, is co-recipient of an Academy Award for Scientific and Technical Achievement, received an ACM/SIGCHI Lifetime Achievement Award, and is a Fellow of the ACM. Bill has published, lectured and consulted widely, and is an Adjunct Professor at the University of Toronto, and a Distinguished Professor of Industrial Design at the Technical University Eindhoven. 
PART 1
DESIGNING for and with AI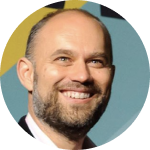 Kristian Simsarian (Collective Creativity, Founding Chair CCA IxD program)
How AI Will Change The Way We Work
Artificial Intelligence, specifically machine learning, will likely cause a more significant shift for designers than the previous major design shifts from specifications to agile or from large screens to mobile devices. Designing AI will change the methods, tools, applications, and collaborators. Specifically, AI will bring us into an era of "teaching" technology. When specifying (waterfall), our craft was our limitation. When shaping (agile), collaboration was our limitation. With AI, our capacity to teach will be our primary limitation. We need to develop new ways to articulate our design goals by defining learning objectives and AI utility functions. Fortunately, designers have almost all the necessary skills to help make machine learning's impact culturally positive. This talk introduces designers to AI's fundamental logic (learning), the problem when designers are not helping set AI policy, and the missing skills you need to direct AI in a societally aligned way.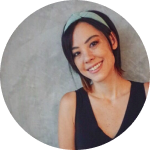 Hannah Maddy (Netflix)
Developing a learning UX for AI
AI. Machine Learning. Big Data. But, what do these fancy buzzwords mean in the context of humans and their behaviors? How can bringing UX expertise and strategies earlier on in the AI development process inform a meaningful end-user experience? Hannah Maddy will talk about fundamentals and definitions of AI, how to define user interactions that help models become more intelligent, and best practices and frameworks you can take with you to to create a meaningful balance between humans and artificial intelligence.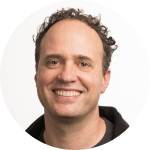 Ammon Haggerty (Formation.AI)
We are the data miners — Rethinking design for AI
Discussing design challenges for consumer AI applications, and some tactics for solving some of the hardest design problems. We're at a critical juncture for consumer AI applications: the use of personal data as fuel has led to the emergence of intelligent services, but people are waking up to the privacy and social implications of broad data sharing. In this talk I'll discuss the role of the interaction designer as "data miner", the challenges we face building trust and the engagement that's needed to enable meaningful experiences. I'll also demonstrate how tactics such as playfulness and empowerment can solve some of the most challenging design problems in AI.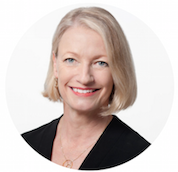 Elizabeth Churchill (Google)
Elizabeth Churchill will join us as a guest moderator for the Fireside chat with Bill Buxton
Director of User Experience at Google, Dr. Elizabeth Churchill is an applied social scientist working in the area of human computer interaction and user experience. Prior to taking up her current position at Google, Elizabeth has built HCI research teams in a number of well-known companies, including eBay, Yahoo!, PARC and FXPAL – Fuji Xerox's Research lab. In 2016, she received the Citris-Banatao Institute Athena Award for Executive Leadership. She received her PhD in Cognitive Science from the University of Cambridge, and both her BSc. and MSc. (in Experimental Psychology and in Knowledge Based Systems respectively) from the University of Sussex in the UK. In July 2018 she received an honorary Doctor of Science from the the University of Sussex for her continued contributions to the sciences underlying creative technologies. Elizabeth is the current Executive Vice President of the Association for Computing Machinery.
PART 2
DESIGNING FOR LIFE, DEATH and ETERNITY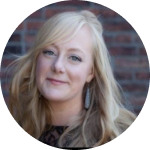 Aubrey Bach (Facebook)
Designing With Extreme Empathy: How to Build Products that Support People in a Crisis
As designers, we often talk about our responsibility to design for stress cases. But what if you had to build a product that was only used during the most stressful of times? That's the challenge that Facebook's Crisis Response team faces every day. In this talk, Aubrey share best practices for designing for people in crisis and focus on how the words you use in a product can support users when through stressful experiences. You will walk away with a deeper understanding of the needs of people affected by crises and ideas of how they can apply these learnings to better serve people who use their products in times of stress.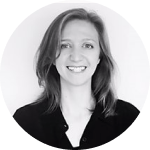 Rebecca Blum (formerly Frog Design)
NecroTech: Death & Legacy in the Digital Age
How could (and should) technology change the way we plan for death, memorialize, and live on. We are hyper aware of how we create, curate, and live with digital versions of ourselves online, but what happens to those digital selves after we die? We design digital experiences with life in mind. How might we also start designing with the inevitability of death in mind as well? And with new start-ups holding out the promise of a digital reincarnation, how do we ensure we clearly differentiate between digital life and digital afterlife? This talk will address how technology is already shaping our relationship with death and digital legacy, and how we design digital experiences that meaningfully impact not just how we live, but how we die, and how we live on.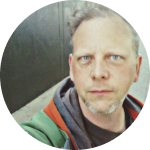 Ian Pollock (Cal State University, East Bay)
IxD in the Age of the Anthropocene
Babies born today will be 22 when global warming reaches 1.5 C, according to the latest IPCC report and forecasts. What will life be like in 2040? How do we as educators and designers respond today, to the challenges that lie ahead for the next generation? How does our practice evolve to take global climate change into account? How do projects like 'Rebuild by Design' and 'Fairphone 2' shape the way we should think about the future design and about the education of designers.
ORGANIZER: IxDA San Francisco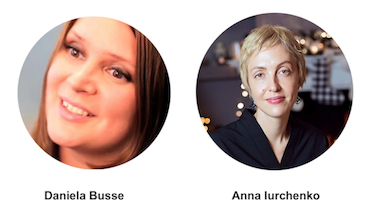 Daniela Busse and Anna Iurchenko lead the San Francisco Interaction Design Association. IxDA SF is the San Francisco chapter of the global Interaction Design Association (IxDA), with a membership of over 100,000 world-wide. Serving a community of over 10,000 designers from around the Bay Area, IxDA SF hosts a wide range of design-focused and social events throughout the year. We partner with great companies to host talks and activities that move interaction design forward and enable practitioners to advance skills, while also providing a platform for members to add their voices to the larger conversation about design practice. Above all, we seek to curate the sharing of ideas, perspectives, and inspiration that help make us all better and more aware thinkers and designers.  
Event team members:
Nishtha Mehrotra (Workato)
Geoff Brown (FitBit)
Zhen Li (Schlumberger Tech Innovation Center)
Amrita Chatterji (CCA)
Klara Pelcl (ZapLabs)
May Cheng
Jane Dobkin (PG+E)
Steve Streisguth (Thoughtworks)