*** Learn more and register! ***
Networking, Learning, Pizza and Receive a Free Copy of the Book ($39.99 value!)
Be a part of The UX Careers Handbook SF Launch Event and find out what you need to know about user experience careers from The UX Careers Handbook author Cory Lebson!
Big thank you to Aquent for providing all pre-registered attendees with a a free copy of the book! (These are the first copies to be distributed anywhere! Free copy of the book only available to those who are at the event.)
And to UserZoom for providing pizza and beverages!
And to WeWork for providing the space for the event!
------------------------
As a job seeker, learn what it takes to succeed as a UX professional. Explore the multitude of career pathways available to you. Find out how you can frame yourself solidly as a UX-er through learning, personal branding and networking.  
If you're an employer or recruiter, learn how you can craft your job descriptions to find experienced UX-ers instead of ellusive unicorns.
Be the first in the nation to browse through publisher copies of The UX Careers Handbook!
***Attendees will also receive a 20% publisher discount code to order the book*** 
Agenda:
--- 6:00 PM - 7:00 PM - Networking and drinks
--- 7:00 PM - 8:00 PM - Author Cory Lebson speaks about UX careers, followed by Q&A
--- 8:00 PM - 8:30 PM - Additional networking
About the Book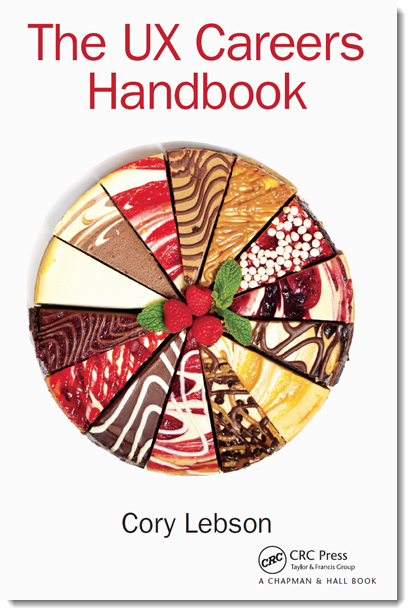 The UX Careers Handbook offers an insider's look at how to be a successful User Experience (UX) professional from comprehensive career pathway descriptions to learning, personal branding, networking skills, building of resumes and portfolios, and landing a UX job.
The book goes in-depth to explain what it takes to get into and succeed in a UX career, be it as a designer, information architect, strategist, user researcher, or a variety of other UX career specialties. It presents a wealth of resources designed to help readers develop and take control of their UX career success, including perspectives and advice from experts in the field.
Follow The UX Careers Handbook on Facebook!
*** Learn more and register! ***